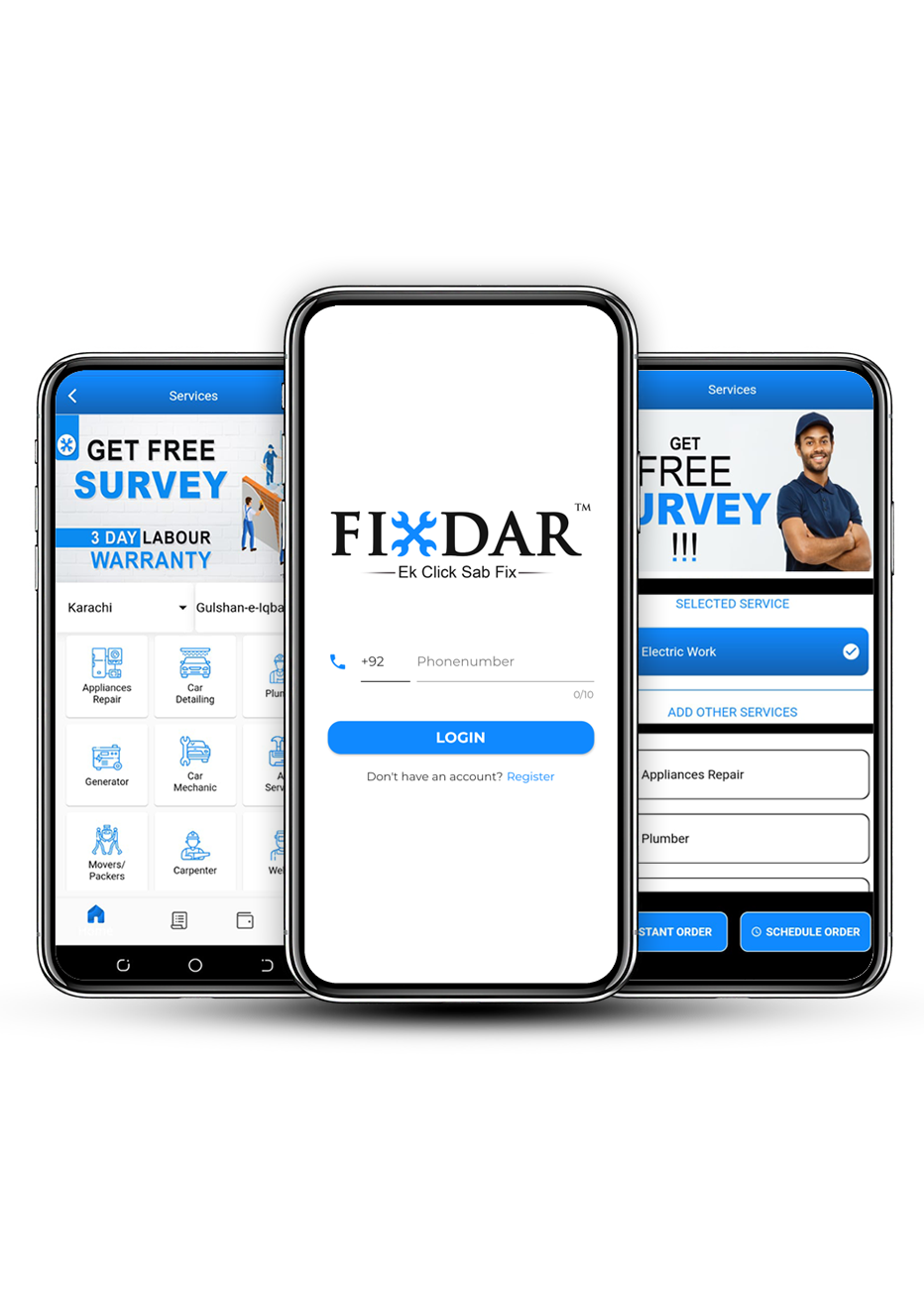 FixDar App
An app that links you with the experienced and the best handyman in Karachi with a wide range of expertise to meet your home renovation and construction needs. Let us help you with all your building repair needs, from mending ceramic grout holes in the bathroom to repairing gutters before the rainy season, painting rooms/rooms, and kitchen improvements. You can access all of the services with only one click. Simply download the FixDar App and hire an Electrician Online to fix any electrical problem, big or little. We have all specialists and expert handymen available to provide you with home appliances repair online, AC installation, TV repair, and Plumbers Online services
Grow With FixDar – Become Our Partner
FixDar is based in Karachi and provides comprehensive home maintenance and home improvement services to Karachi residents with the help of qualified and reliable handyman associates. We do not have any franchises outside of Karachi. Still, we welcome people from other cities in Pakistan, such as Lahore, Islamabad, Peshawar, Faisalabad, and all other towns in Pakistan, to become our partners and benefit your people from our quick and competent repair and maintenance services. Contact us at management@fixdar.com
FixDar, Your Renovation Company
in Karachi, Pakistan
We are a company dedicated to providing a wide range of services in construction, works, reformation, maintenance, and repair in general for homes, farms, commercial premises, etc., in Karachi, Pakistan. Being a professional firm in terms of innovation and development, incorporating involvement and adapting to reality and demands, and predicting future customer needs will give you the best budget based on price versus quality that you need.
Do you need home appliances repair online for your home in Karachi? We are the solution to your problem. We are experts in resolving domestic and residential repair and maintenance issues. We come to your house and create a budget to begin repairing the problem as soon as feasible. We understand that these are issues that cannot be postponed thus, our FixDar App helps you to wait no more and make your approach possible to the desired handyman in seconds. If you do not have FixDar App in your mobile till now then download it at your first priority. Our App is available at both the Google play store and Apple Store. We want you and your home to be trouble-free.
FixDar is based in Karachi and provides comprehensive home maintenance and home improvement services
to Karachi residents with the help of qualified and reliable handyman associates. We do not have any franchises outside of Karachi. Still, we welcome people from other cities in Pakistan, such as Lahore, Islamabad, Peshawar, Faisalabad, and all other towns in Pakistan, to become our partners and benefit your people from our quick and competent repair and maintenance services. Contact us at
FixDar has created a unique marketplace where customers can find reliable and skilled handymen and verify their CNIC and police background. The team we hired is based on experienced professionals with years of experience in various construction projects. They all are experts in repairs, remodeling, and new construction. We can confidently state that we can provide a task and house renovating services of the greatest quality and responsibility in the different areas in Karachi, Pakistan.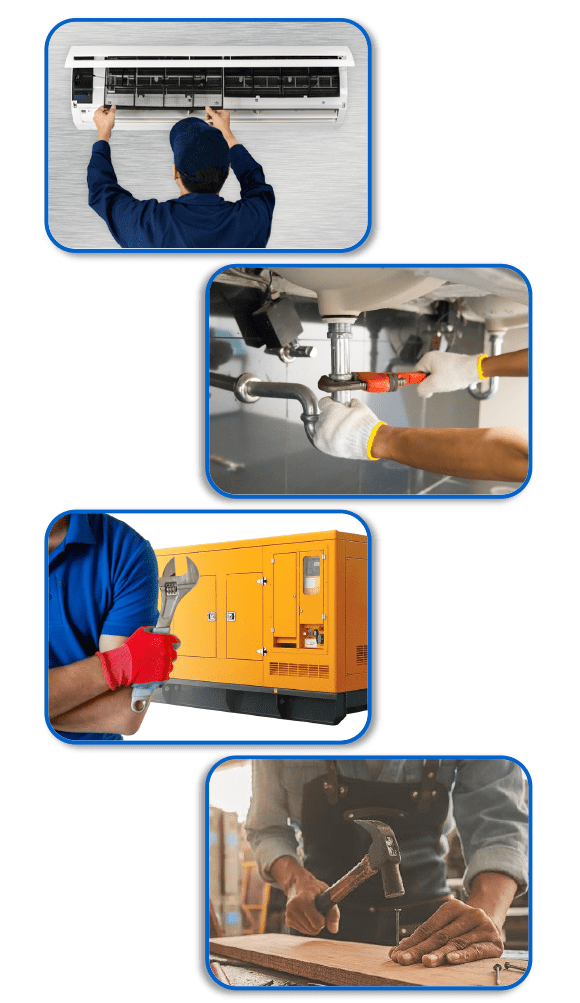 Would you like to hire a best handyman in Karachi?
We offer a professional handyman service to fix appliances, hang objects, perform electrical work, plumbing work, and assemble furniture, among others. In short, everything you've wanted to do but doesn't know where to begin. Alternatively, use our FixDar App to book a professional to address the issue in seconds.
Why Choose FixDar for your repairs or renovations?
---